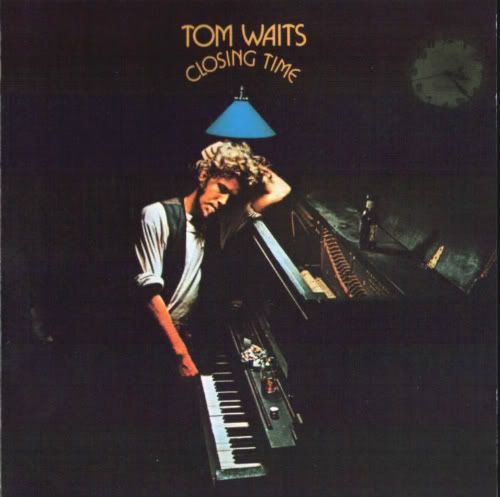 CLOSING TIME
TOM WAITS (EUA)
Edição original: Asylum
Produtor(es): Jerry Yester
discogs
allmusic
wikipedia
Now it's closing time, the music's fading out
Last call for drinks, I'll have another stout.
Well I turn around to look at you, you're nowhere to be found,
I search the place for your lost face, guess I'll have anotherround
And I think that I just fell in love with you.
(in "I Hope That I Don't Fall in Love with You")
Entre os discos que constam da minha coleção pessoal e desta longa lista, este é aquele que comprei há mais tempo. Na adolescência, ouvia tanta gente a tecer todo o tipo de elogios a Waits que tinha de perceber o que era. Não tínhamos youtube nem sequer internet para sacar discos, diria agora um avozinho meio trocado das ideias. A rádio, ou melhor, o António Sérgio era uma das poucas hipóteses de ouvir música antes de a comprar (a outra era, claro, o já tão longínquo sistema de partilha de discos entre amigos). Mas adiante. Aconteceu que "Closing Time" não bateu à primeira. Só com "Heartattack and Vine" (1980) ou "Swordfishtrombones" (1983) se faria luz e só anos mais tarde, já com meia discografia de Waits na estante e nos ouvidos, é que o álbum de estreia voltaria à liça, como se fosse preciso conhecer o porteiro deste bar fumarento de jazz, country e canção americana que é "Closing Time".