Não só voltaram a juntar-se para tocar um pouco por toda a América e por toda a Europa, como gravaram novo álbum. Thierry Amar, David Bryant, Bruce Cawdron, Aidan Girt, Efrim Manuel Menuck, Mauro Pezzente, Sophie Trudeau e o regressado Mike Moya, que se tornaram conhecidos como godspeed you! black emperor, gravaram "ALLELUJAH! DON'T BEND! ASCEND!", passados praticamente 10 anos de "Yanqui U.X.O.", que muitos julgavam que ia ficar para a história como o último álbum do coletivo.
O disco vai ter o selo n.º 81 da Constellation, que o vai lançar a 15 e 16 de outubro próximos, na Europa e nos EUA, respetivamente (alguns sortudos já o apanharam na digressão americana). Como sempre, há edição em CD e em LP (e agora também em MP3 e FLAC). Como sempre, a opção vinílica traz mariquices bonitas para quem aprecia.
Entre os temas, encontram-se -- finalmente em disco! -- temas fantásticos como "Albanian" e "Gamelan", que aqui ganham os títulos "Mladic" e "We Drift Like Worried Fire", respetivamente.
Já toda a gente o sabe: os godspeed vão estar por cá, mais precisamente no Hard Club do Porto, a 28 de outubro, por ocasião do Amplifest'12.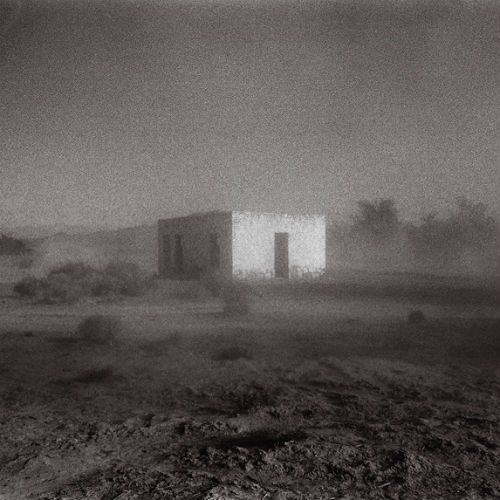 O
blurb
da Constellation:
We are proud to announce the first new recordings by Godspeed You! Black Emperor in a decade. Featuring two twenty-minute slabs of epic instrumental rock music and two six-and-a-half minute drones, 'ALLELUJAH! DON'T BEND! ASCEND! provides soaring, shining proof of the band's powerful return to form.

Having emerged from hiatus at the end of 2010, GYBE picked up right where they left off, immediately re-capturing the sound and material that had fallen dormant in 2003 and driving it forward with every show of their extensive touring over the last 18 months. The new album presents the fruits of that labour: evolved and definitive versions of two huge compositions previously known to fans as "Albanian" and "Gamelan", now properly titled as "MLADIC" and "WE DRIFT LIKE WORRIED FIRE" respectively. Accompanied by the new drones (stitched into the album sequence on CD; cut separately on their own 7″ for the LP version), GYBE have offered up a fifth album that we feel is as absolutely vital, virulent, honest and heavy as anything in their discography.

We don't have much time for mythology, but we'd be lying if we said the return of Godspeed You! Black Emperor in 2010 didn't signify a whole lot to us as a marker from which to look back on the past decade, to reflect on what's been gained or lost within the confines of independent music culture and what's been gained or lost in the socio-political landscape writ large. Godspeed's music will do that to you. It is music that bears witness to, channels and transforms this predominantly terrible, infuriating, venal and nihilistically sad story we're all living, sharing, resisting, protesting, deconstructing and trying to change for the better. We think GYBE has once again provided a uniquely moving and compelling soundtrack for these acts of analysis, defiance and ascension.
* * *
Hard to believe a full decade has passed since the release of Yanqui U.X.O., the last album by GYBE. Never a band to care for conventional industry wisdom, Yanqui was released shortly before xmas 2003 with little publicity and no press availability, no marketing plans or cross-promotions or brand synergies, with back cover artwork tracing the inextricable links between major music labels and the military-industrial complex. Driven by word-of-mouth from a passionate and committed fanbase galvanized by the group's sonic vision and its dedication to unmediated, unsullied musical communication, the album found it's rightful audience.
To suggest that such simple principles and goals have become harder to maintain and enact a decade later is an understatement. For all the contents and discontents – for all the "content" – of our present cultural moment, the idea of circumventing the glare of exposure, the massaging of media cycles and the calculus of identity management appears quaint, if not futile.
But Godspeed is looking to try all the same. The band wants people to care about this new album, without telling people they should or talking about themselves. They want to hold on to some part of that energy that comes with the thrill of anonymous discovery and unmediated transmission, knowing full well that these days, anti-strategy risks being tagged as a strategy, non-marketing framed as its opposite, and deeply held principles they consider fundamental to health as likely to be interpreted as just another form of stealth.
Truly, thanks for being open to hearing it.
Release date: 15 October 2012 (Europe), 16 October 2012 (rest of world)
Running time: 53:09
PACKAGING NOTES
CD comes in a custom gatefold jacket printed on 100% recycled paperboard in 4-colour process plus spot metallic ink and spot matte varnish. CD dust sleeve is also 4-colour print.
LP is pressed on 180 gram virgin vinyl at Optimal (Germany) and comes in a tipped-on heavyweight gatefold jacket printed in full-colour process plus a spot metallic ink and spot matte varnish. LP dust sleeve is also 4-colour print. Package includes a 7 inch in printed dust sleeve (same audio appears in a different sequence on the CD) and a 12"x48" pull-out poster (printed full colour on both sides) featuring a collage of film stills specially-photographed and captured from the GYBE live 16mm projections.
TRACKLIST
1. MLADIC
2. THEIR HELICOPTERS' SING
3. WE DRIFT LIKE WORRIED FIRE
4. STRUNG LIKE LIGHTS AT THEE PRINTEMPS ERABLE
CREDITS
PERSONNEL
Thierry Amar, David Bryant, Bruce Cawdron, Aidan Girt, Efrim Manuel Menuck, Michael Moya, Mauro Pezzente, Sophie Trudeau, Karl Lemieux.
Tracks 1 and 3 recorded at Hotel2Tango by Howard Bilerman. Tracks 2 and 4 recorded at the band's jamspace, mixed by Amar, Menuck, Bryant and Moya at The Pines.
Mastered by Harris Newman at Greymarket.
Cover photograph by Charles-André Coderre. Burnt 16mm frames by Karl Lemieux, re-photographed by Yannick Grandmont. "Atonal Canada" photo by Timothy Herzog. Others images by Bryant/Menuck/Lemieux.