É uma lista um tanto ou quanto manca. Ficou por ouvir muita coisa neste ano e, do que se ouviu, pouco tempo houve para escutas em condições razoáveis. Há muitos discos de 2005 que só irão ser conhecidos no próximo ano e que aqui poderiam marcar presença. Por exemplo, "Grundstrück", o novo álbum dos Einstürzende Neubauten, apenas disponível para a comunidade de "supporters" do grupo, tem sido tão bem recebido que dificilmente escapará, imagino, à lista. Mas é sempre assim com estas listas de discos. Daqui a anos ainda aparecerá, na espuma do tempo, um disco de 2005 que nos leva a pensar "como é que eu não ouvi esta merda na altura?". Mas chega de conversa. Eis a selecção 2005:
(Actualização: vá-se lá saber porquê, ficaram de fora os álbuns de Lightning Bolt, LCD Soundsystem e Konono no1. A ausência destes três discos foi entretanto corrigida.)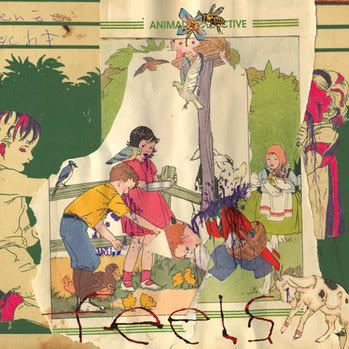 1. ANIMAL COLLECTIVE - FEELS

2. KTU - 8 ARMED MONKEY

3. ELECTRELANE - AXES

4. JACK ROSE - KENSINGTON BLUES

5. THEE SILVER MT. ZION ORCHESTRA AND THE TRALALA BAND - HORSES IN THE SKY

6. SIX ORGANS OF ADMITTANCE - SCHOOL OF THE FLOWER

7. BROADCAST - TENDER BUTTONS

8. LIGHTNING BOLT - HYPERMAGIC MOUNTAIN

9. ISOLEE - WEAREMONSTER

10. LCD SOUNDSYSTEM - S/T11.
earth - hex or printing the infernal method
12.
(smog) - a river ain't too much too love
13.
antony & the johnsons - i am a bird now
14.
konono no.1 - congotronics
15.
stephen malkmus - face the truth
16.
why? - elephant eyelash
17.
angels of light - sing other people
18.
gang gang dance - god's money
19.
colleen - the golden morning breaks
20.
tortoise and bonnie 'prince' billy - the brave and the bold
21.
sunburned hand of the man - no magic man
22.
micah p. hinson & the gospel progress - s/t
23.
books, the - lost and found
24.
bardo pond - cypher documents 1
25.
brian eno - more music for films
26.
bright eyes - i'm wide awake it's morning
27.
clap your hands say yeah - clap your hands say yeah
28.
world's end girlfriend - the lie lay land
29.
oneida - the wedding
30.
hawk and a hacksaw, a - darkness at noon